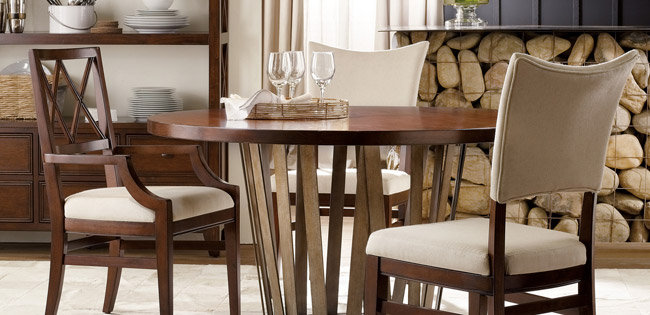 Wooden Dining Chairs
Wooden furniture with natural texture and traditional style enhances one's kitchen or dining area with a modern look. If they are made of fine brown wood then they make you feel like sitting on nature's lap. Grab the hottest deals and seasonal discounts offered on the wide range of dining chairs, to bring home your new collection of modern wood dining chairs that are worth craftsmanship and strength to define your style and passion.
Best Characteristic Features of Wooden Dining Chairs:
The furniture world today has something for everyone like 4 seater,  6 seater, 8 seater and so on according to your dining space. From living room to dining room, kitchen to bathroom or children study room to Pooja room, like this these wooden articles are spread in each corner of the house with unique designs in today's modern world. They add beauty and style to your home and at the same time allow you to feel the comfort of using them for multifunctional purposes such as sitting in a lawn, having meals with your family, educating your child while doing kitchen work, or a gossip with your friends while having tea parties etc.
Let's brief you the most important features that are essential to know before choosing a wooden dining chairs that add style to one's home. They are:
Size: It is very important feature to be noted before one selects any furniture for their home. Choose a dining table that fits according to the area of your dining place, because if it is small and your dining set is big it will be difficult for you to move on, and if vice versa the guests or family members will feel uncomfortable to sit on a smaller dining table and chair that is not according to their heights.
Color: There are wide ranges of wood shades and tones available to choose for your dining furniture. Choose from light to dark brown that match according to your home interior and are known as neutral or earth toned colors. If you got bored from light colored chairs and find them difficult to maintain then go for traditional brown colored dining chairs that give you classic appeal.
Style: Modern, Retro, Vintage, Mid-century and Scandinavian are the best available styles from which you can choose your wooden dining chairs that matches perfect to your interior. Any type of wooden craftsmanship will add style to your dining or kitchen area.
Material: It is one of the important things which every buyer should ensure for the durability of the product. Mahogany, Oak and beech which are the available dark hard wood that are widely popular and used to prepare dining sets with strength and last for longer while. Always go for the harder ones like modern wood dining chairs rather than the softer woods which are processed and strained to get natural look.
Conclusion:
Choose your modern wooden dining chair set based on these above features that exhibit craftsmanship and strength to add beauty to your kitchen or dining area and matches according to your home interiors.